Easier Board Meetings for Charter Schools
CharterBoards helps you manage your board, have great meetings, and stay in compliance with your authorizer.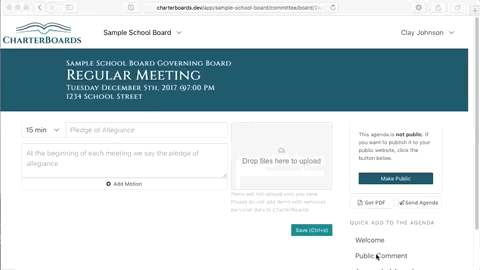 The complete toolkit for managing Charter School Boards
Quickly prepare and manage your meeting agenda, board packet and minutes
Effortlessly meet open records and meetings requirements
Save on printing costs
Create long-term stability for the school
Increase constructive community participation
Simplify charter renewal
It's the most affordable solution in the market

I can contribute to the meeting and take minutes at the same time! Finally!

Who knew making an agenda could actually be fun? Just a few clicks and I'm done!

"Our parents stay in the loop now. It's easy for them to see what's going on and stay engaged the right way."
Stop Jumping Through Hoops and Make a Difference
With CharterBoards, you don't have to worry about making sure you're publishing the right documents and the right time. CharterBoards helps do it for you. CharterBoards comes with an open government portal that stays in compliance with your local authorizer's needs. That means less time spent jumping through hoops, and more time spent educating children.